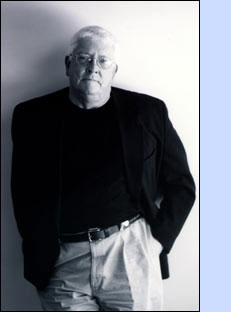 John F. Hammond. Who is this guy? How on earth did he get so good? Why doesn't such an exceptional pianist enjoy international acclaim? After hearing John play for the first time, there are always questions. For the ubiquitous long list of big names, please see John's impressive resume here. Click here for a short bio suited for press release. For the real story, keep reading.
At age 5, it was clear that Houston native John F. Hammond was a child prodigy. After attending his aunt's wedding, he went home and with no musical training, surprised everyone by playing the wedding march on the piano, with the correct melody and chords. In the decades since, he has not outgrown the "prodigy" or having the dreams of a child.
John never rested on providence. With diligent practice and training from his mother, also a pianist, his enormous natural ability grew with leaps and bounds. By age 7, he was appearing on a local television shows. At age 10 he received a scholarship to the Houston Conservatory of Music where he studied piano and violin along with college level theory and harmony. In addition to being an aspiring concert pianist, through out his high school years he played with his school and local professional orchestras as a section violinist.
At age 16, having won many piano competitions, he auditioned and won the coveted young artist award given by the Houston Symphony Society. The award consisted of a cash scholarship and five solo appearances with the Houston Symphony Orchestra - Leopold Stowkowski conductor. It appeared that John was on a track to a classical music career.
Although an accomplished classical player, John was also being exposed to other kinds of music by his peers, namely jazz. He was listening more and more to Miles Davis, Red Garland and Coltrane. An under age John talked his way into a local jazz joint, where he met jazz pianist Victor Feldman who was playing with "Cannon Ball" and Nat Adderly, Sam Jones and Louis Hayes. It was the first time he had ever heard a live bebop band. He was blown away! He decided to trade the interpretation of classical music for the improvisational freedom of jazz.
Even though he was the recipient of music scholarships to various universities, John, after a couple of years, decided to get the rest of his education playing music in the real world. Leveraging talent with persistence, he was immediately accepted into Houston's underground jazz scene. By day, he was teaching music theory at the Houston Conservatory of Music. By night, John was cutting his jazz teeth playing with heavyweights Arnett Cobb, Jimmy Ford and James Clay in little joints like Pucho's Purple Onion and Korette's BBQ. His classically trained hands allowed him to play with such speed and dexterity that his mentors nicknamed him "Little Oscar". He later worked in local house bands playing shows and was musical director and band leader for local television shows at KPRC TV.
In 1968, John moved to Los Angeles because he wanted the opportunity to play with the best players in the world. He helped define the "60's on Sunset" era, playing in clubs on the Sunset Strip. His talent and diligence didn't go unnoticed. John quickly became a much in-demand session player and a staff writer for Motown and eventually CBS.
In Los Angeles, John was associated with many major artists as a pianist, accompanist, conductor and writer. He performed with artists as varied as Carmen McRae, Tina Turner, Mel Torme, Bob Hope, etc. He guest conducted major orchestras around the world including the New Orleans Symphony, Johannesburg Symphony, Sidney Television Orchestra, NBC, CBS and BBC Orchestras. Because of his impeccable musical talent and judgment, John was recommended by the president of the Los Angeles Musicians Union to be the musical director for Michael Jackson and The Jackson 5 at the peak of their commercial success. At 30, John had become a true musical journeyman and he was at the top.
So why did he go underground? In 1977, in his second marriage, and with a young child, the trajectory of John's career was shifting again. Wishing to see his son grow up, John stopped taking long touring engagements. An unsuccessful musicians' union strike in 1980, sent a major portion of LA session work to other cities. The work climate for musicians was dismal. Many were changing careers but John couldn't give up playing music. He did what every other musician working in LA had to do – anything that would keep him afloat.
The following years had some musical highs and lows. Making a living was not always synonymous with making great music. Some days John would play a bar mitzvah for 100 cake-throwing kids. Some days he would play on a film score with Dave Grusin or coach Michelle Pfeiffer for "The Fabulous Baker Boys". He would pick up LA performances with Englebert Humperdink, Shirley Bassey, Merile Haggard, Frank Sinatra, etc. He wrote jingles for Kikoman Soy Sauce, Carpeteria, Pepsi, or songs for "The Captain Kangaroo Show" or Cuba Gooding and "The Main Ingredient". John might play for a national TV audience with Tommy Newsom on the Tonight Show Band and then rush off to play "Here Comes The Bride" for the cazillionth time at a casual. He played "notes for dollars" as he likes to call it – sometimes glorious, sometimes grueling. But late at night, to remember why he played music, he would work jazz joints. John was getting a reputation as a phantom on the LA jazz scene.
As his 50th birthday approached, studio work was intermittent, and the proliferation of DJs lead to the decline of casual party work. John had to develop a new market so he created a niche playing jazz, solo and duo in luxury hotels. Although he was still writing songs such as "Lovin' on Borrowed Time", the single from George Benson's "Love Remembers" CD, this was primarily a decade of on-the-job practice, five hours a night, six and seven nights a week, for generous paychecks and appreciative hotel guests.
After 12 years of exploring new musical ideas in hotel lobbies, and with 50 years of musical life experience at his fingertips – John knew it was time to play music for the sake of music. His hands were in the best shape of his life and THE MUSIC couldn't wait any longer. He had a simple plan: only play the music he loved, with the players he admired, and on an instrument worthy of an artist. That's it! Don't worry about the rest. When he was asked by a local hotel to start a jazz club, John convinced the General manager to get a nine foot concert grand piano and a bonafide club named Fitzgerald's was born. John booked the room with his trio and other world-class artists and the audience magically materialized to hear this silver-haired virtuoso. The press gave rave REVIEWS while the club and musicians enjoyed a very successful two year stretch of playing stellar music. His debut album was released and immediately got daily airplay on LA's jazz radio stations. John was becoming somewhat of an underground jazz icon.
Now at his new jazz venue "The Back Room", John is consistently surrounded by LA's finest – his bass player Jim Hughart (a music icon in his own right) and various drummers or guitar players. You will find musicians such as Pete Christlieb, Carl Saunders, Bobby Shew, Sam Most, Don Menza, Lanny Morgan, Bill Watrous, etc. in the house band on any given night. The finest players in the world come in to hear John and the band, have a drink, and sit in simply for the love of playing great music. John is a musician's musician: Relentlessly swinging, recklessly inventive, and emotionally giving. JUST LISTEN.
There are no shortcuts. It takes a lifetime to play with the intensity of John F. Hammond. From the trenches to the top, John has been there. John is what happens when you spend your entire life living through and playing music. Now, this musical giant is emerging from the shadows to plant both feet firmly in the spotlight.
Currently, John is mastering a collection of his live recordings that will be available on CD soon HERE.
For Johns appearance schedule: local, concerts, festivals, clinics etc. please see his CALENDAR.
To book John: Please see the CONTACT PAGE.
Fan mail can be sent to email: DEAR JOHN.