"Watching John play is to observe a master at work." - Al Martinez, LA TIMES
"John Hammond is maybe the best kept secret in LA folks - one hell of a Piano player."
- Chuck Niles, KKJZ 88.1 FM
"John Hammond is one of the Southland's great Jazz Treasures." - Don Heckman, LA TIMES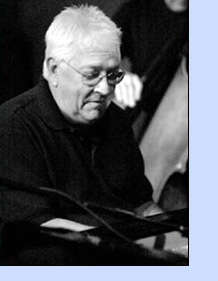 Welcome to a rare treasure - timeless tunes wrapped around the heart, soul and talent of the best: John F. Hammond. An artist who has been an underground mystery for years, and a true working musician's hero, this musical giant is now emerging from the darkness to plant both feet firmly in the spotlight!
John delivers 10 stunning and courageously revealing duo tracks on this self-titled debut release on Rhombus Records. Here he is at his best - out front - playing the acoustic piano - paired with his favorite bassists. Accompanied by veterans Jim Hughart, Andy Simpkins, Putter Smith and Tom Warrington, John Hammond lays it all on the line every time! This is jazz in its purest and best form: endlessly swinging, recklessly inventive, and emotionally giving.
It takes a lifetime to play music with the intensity found here. Hammond's take on up-tempo standards like "Stella By Starlight" are technically terrifying. His quirky selections of material such as "Surfer Girl" show his daring musical sense of humor. His life-experienced interpretations of ballads like "Why Did I Choose You" leave listeners breathless - the room silent.
Even the most seasoned and famous musicians have been known to sit at the end of John's piano, only to be dumbfounded by his skill and moved to tears by his emotional investment. This recording represents the style, sense and taste of one of today's premiere musicians, the way he was meant to be heard - pure, clean and uncomplicated.